American-Made Techniks ShrinkSTATION: $2000 Free Tool Promotion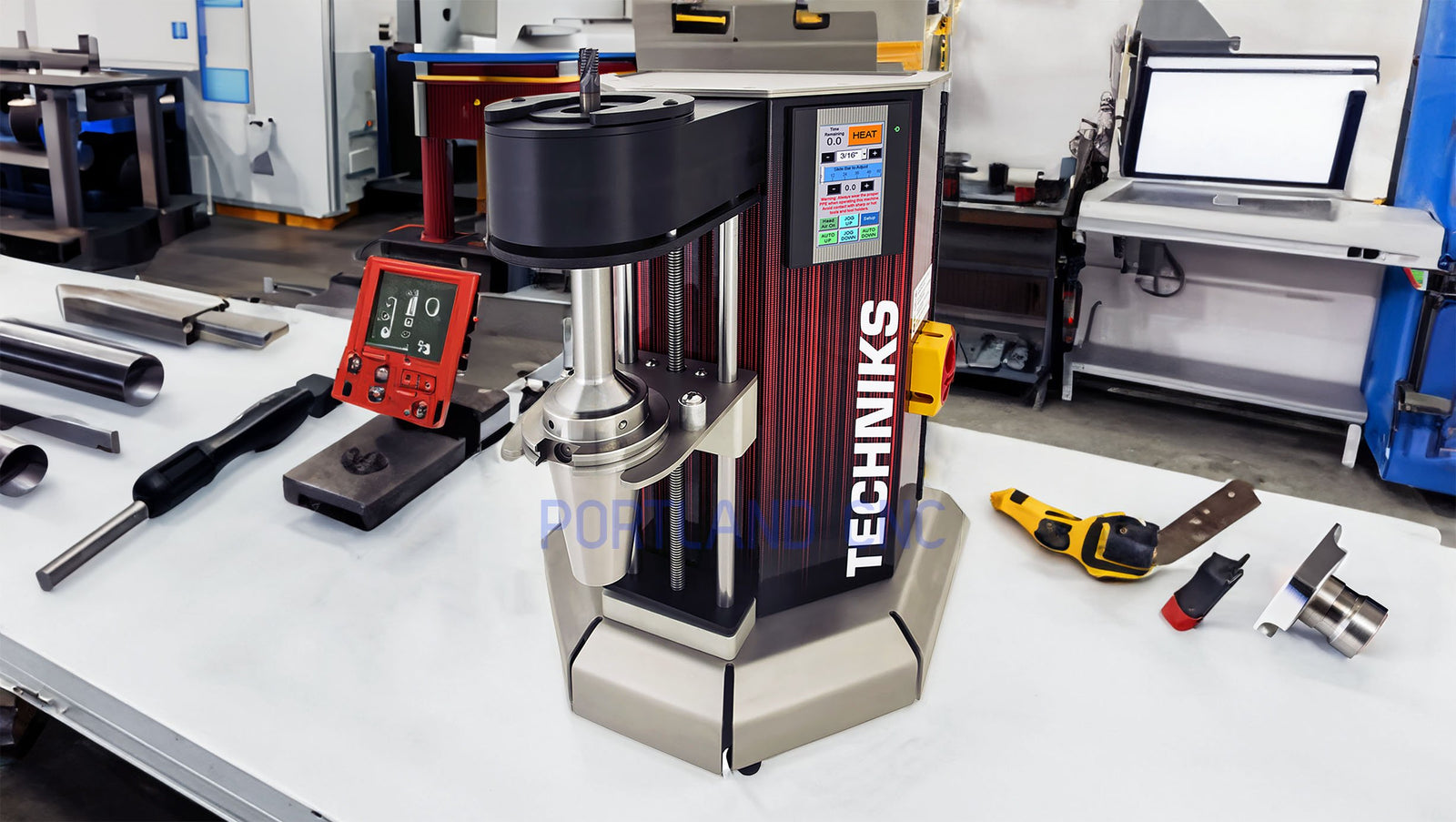 As you strive to maximize efficiency and precision in your job shop or manufacturing facility, shrink-fit machines become an indispensable part of your toolkit. Today, we're excited to introduce the Techniks ShrinkSTATION 00400-M and 00450-M, how they are different and the $2,000 of free tool holders promotion!
The Perks of ShrinkSTATION 00400-M & 00450-M
The Techniks ShrinkSTATION 00400-M and 00450-M bring robustness and reliability to your operations. With every component, from the industrial touch-screen interface to the motor-driven transport rail, designed for ease of use and reliable performance, these machines are ready for the most demanding environments.
Setup Speed
One key feature is the induction coil technology, enabling tool changes in just 15-20 seconds for the 00400-M, and an even more impressive 6-8 seconds for the 00450-M. That's right – the 3-phase 00450-M works about twice as fast as its 1-phase counterpart! This kind of speed can drastically reduce downtime and accelerate your production.
Added Precision
But it's not just about speed. These machines also bring precision. They automatically align the tool holder with the induction head, and the heating time is automatically set by tool diameter. With a maximum total indicator reading (T.I.R.) of only 0.0001", you can trust shrink-fit for even the most demanding precision tasks.

Additional Perks
Invest in speed and precision with the Techniks ShrinkSTATION 00400-M and 00450-M. These American-made machines are designed for demanding environments and offer impressive features:
Quick tool changes: 6-8 sec for the 00450-M, 15-20 sec for the 00400-M

Precise alignment with a maximum T.I.R. of only 0.0001"

Cooling cycle using shop air

Supports tool lengths up to 22"

Accommodates tool diameters from .125-1.25"
The Techniks 5 Free Shrink Holder Promotion
For a limited time, Techniks is offering 5 Free Shrink-fit Holder Promotion. When you invest in a ShrinkSTATION, you can choose from a list of shrink-fit holders worth +$2,000 absolutely free. This is an excellent opportunity to expand your capabilities while getting the most value for your investment.
Bonus Deal
Need more tool holders? No problem. We can source any other tool holders you need, and if you purchase additional shrink-fit tool holders within 30 days of your ShrinkSTATION purchase, you'll receive a special discount from Portland CNC.
Don't Miss Out
Ready to experience the difference that the Techniks ShrinkSTATION can make in your operations? Interested in capitalizing on the Techniks 5 Free Shrink Holder Promotion? Contact us to order below:
---